What courses do you offer?
How long are your courses?
Our recurrency course is a 5-day course.
Our engineer's course is a 5-day course.
How does payment work?
All courses must be pre-booked and paid for upfront.
How will simulator training affect my insurance policy?
Companies using simulators have a lower risk profile with insurance companies and enjoy reduced premiums.
Why should I train in a simulator?
Normal procedures like start-ups practiced in a simulator reduce the incidence of costly mistakes for new pilots. While experienced applicators can benefit through the refinement of standard and emergency operating procedures.
What other benefits are there to simulator training?
Practicing accurate GPS swath guidance techniques at a fraction of the cost to using the aircraft.
Simulator use increases situational awareness like avoidance of obstacles.
Using a simulator helps in updating human, livestock, crop and sensitive crop recognition techniques.
Practicing of correct drift migration practices is less costly in a simulator.
Mistakes can be made and rectified in a stress-free environment with no risk of harm or monetary loss.
Pilots are exposed to emergency situations without risk thereby improving competency and confidence.
Provides a cost-effective way to manage incident investigations.
Is your Flight Simulator CAA approved?
Our ATO and flight simulator are both accredited by the Civil Aviation Authority of South Africa.
Can I do my Ag Rating on the Flight Simulator?
You may conduct some training for familiarization with our FNPT II flight simulator, but it won't be recognized by the CAA towards your Ag Rating.
Can I do my Ag Rating while I am busy with my CPL license?
You can't do your actual rating, but you do your chemical applicator's course online as well as build hours on the preferred type of aircraft that will benefit you when you are able to proceed with your Ag Rating after you are a qualified Commercial Pilot.
Is a simulator the same as the aircraft?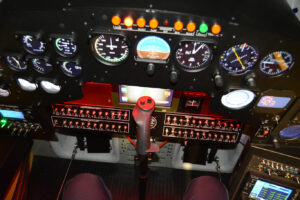 The simulator will never be quite the same. However, simulator training reduces the time spent training in the actual aircraft thereby reducing operating costs. We are also able to put pilots in unusual or highly demanding situations that are not possible to practice in the real world.